22 Application of EQCN for quantitive analysis of alkanethiol adsorbed on modified Ti surfaces
K. Shin, C. S. Kim. Materials Science and Engineering: C vol.23, Issue3, 3 March 2003, p. 407-411
Fig. 2. The plot of mass change versus time: (a) dissolution of Au in aqua regia 10% (V/V), (b) magnified plot, where circle dots represent differentiated mass change.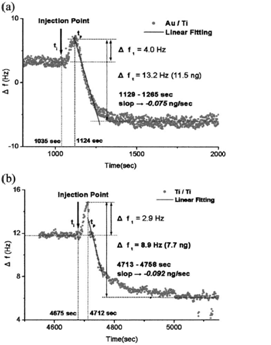 Fig. 3. The frequency change by SAM formation with 0.1 mM alkanethiol: (a) on Au/Ti electrode, (b) on Ti/Ti electrode.
Fig. 4. The frequency change on TiO2/Ti surface after the injection of alkanethiol.